The Shock Pulse Generator (SPG), Developed and manufactured by Swiss company Explosion Power GmbH, is an online boiler cleaning equipment automatically generating Shock Pulses (SP) by pressurized gas combustion. The innovative technology has proven its outstanding performance at worldwide more than 600 different installations in 20+ countries since 2009. Plant operators confirmed significant prolongation of boiler operating periods and increased efficiency, thus contributing to a sustrainable and economic plant operation. Leading plant suppliers decided to apply SPG-Technology to new build plans, additionally profiting from the sophisticated system design and compact geometry.
System overview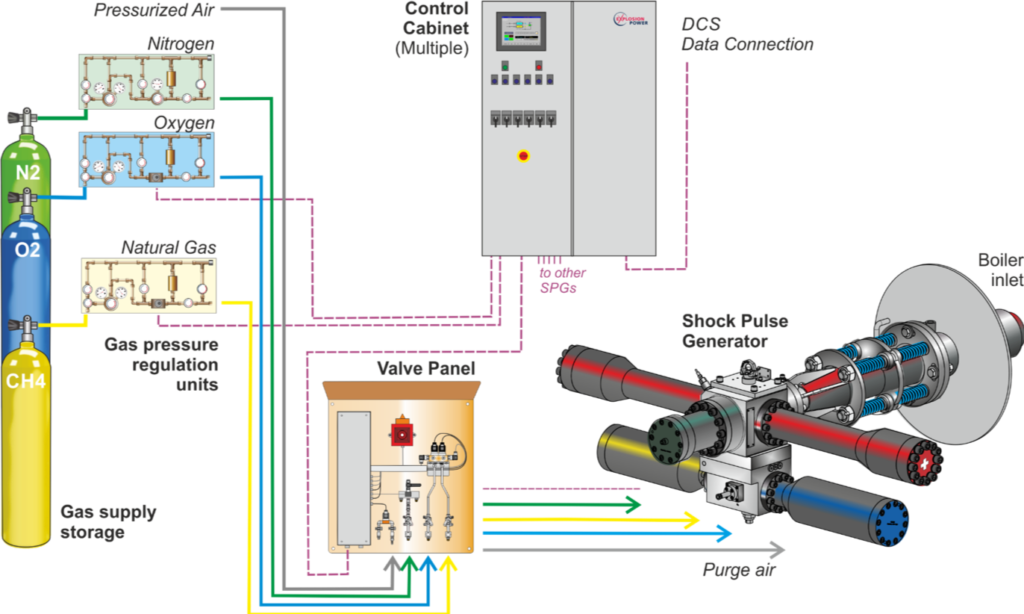 Benefits
Boiler cleaning by means of Shock Pulse Generators means:
Permanent and automated boiler cleaning, thus lower exhaust temperature and higher boiler efficiency, improved CO2 plant performance
No steam consumption, no thermal abrasion or damaging of boiler tubes
Higher plant availability by longer boiler traveling period, less cleaning needs during maintenance stops
Reduction of heat transfer surface area for same steam capacity
Saving of boiler house volume by reduced space requirement
Investment cost saving by reduced number of cleaning devices
High degree of operational safety – boiler remains closed during operation
Quick and easy installation by modular and compact type series
High industrial standard (CE-certification based on Pressure Equipment Directive, clearly defined ATEX zones, PLC system monitoring, PROFIBUS/MODBUS compatible)
Would you like to know more about the benefits of the Installation of a Shock Pulse Generator? Contact us , we looking forward consulting you.